ORIGIN AND PRODUCTION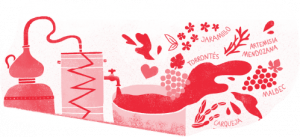 The Vermouth of the Andes is the expression of its natural ingredients and a particular elaboration method we achieved after local research.
Each bottle of Vermouth of the Andes contains four ingredients: wine, botanicals and natural herbs, wine brandy and natural grape must.
Wine and brandy are made in Mendoza from Malbec and Torrontes grapes. The botanists are from different parts of the country and the wild herbs are collected at the foothills of the Andes.
It is made and bottled in Mendoza.
NEW WORLD VERMOUTH
For decades the vermouth category remained almost still, without big news. La Fuerza is part of a generation of projects that reconsider and elaborate vermouth from quality and local identity.
We work on each of the ingredients, in a local production process that seeks to bring the spirit of the Andes to each bottle.
LA FUERZA ROJO
Spicy, floral,
with a bitter touch
LA FUERZA BLANCO
Citric, fresh and aromatic
LA FUERZA PRIMAVERA
EN LOS ANDES
Fresh. Floral. Exotic.